Podcast: Play in new window | Download
Subscribe: Apple Podcasts | RSS
ORIGINAL AIRDATE: January 22nd, 1986 —
Trick or treat! It's April Fool's! Time for some Quayle hunting in Greystone Mansion!
OPENING GAMBIT: MacGyver escapes from behind the iron curtain once again. This time with the help of the greatest MacGyverism of all-time, a coffin-turned-jetski!
MISSION: MacGyver is invited to hand over sensitive information to Pete in a DXS safe house. Unfortunately for them, the house has been infiltrated and booby-trapped by the deranged criminal Quayle.
This week's highlights include:
Recognize any of this trailer?
The fictional Cavitt-Tingloff tower (filmed at the actual Westin-Bonaventure Hotel) is a popular LA staple that makes regular appearances in film and television.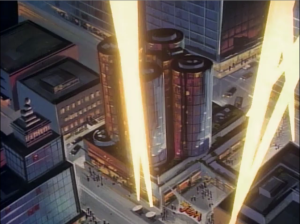 Not to be outdone, the DXS safehouse as played by the historic Greystone Mansion is an even more iconic bit of LA architecture. Most important (at least to us) are its appearances in The Big Lebowski, the original Spiderman trilogy, There Will Be Blood (the bowling alley scene that ends the film), The Muppets (Kermit's Mansion), Death Becomes Her, and others.
Oh, and here's that songified Chuck Testa clip we mentioned… 



Heterodyne (Technology)

Heterodyning is a radio signal processing technique invented in 1901 by Canadian inventor-engineer Reginald Fessenden, in which new frequencies are created by combining or mixing two frequencies.

Check out the article on wikipedia: http://en.wikipedia.org/wiki/Heterodyne
---

Watch S1E12: "Deathlock" on CBS's website or check the alternative streamability of this episode here.