Podcast: Play in new window | Download
Subscribe: Apple Podcasts | RSS
ORIGINAL AIRDATE: September 29th, 1985 —
MacGyver saves the world just in time to shoot hoops with Reggie [SPECIAL GUEST: Shavar Ross!]
OPENING GAMBIT: When a plane carrying dangerous cargo is downed behind enemy lines, MacGyver is dispatched to incapacitate the payload, only to discover the pilot has survived and needs rescuing himself.
MISSION: A series of suspicious explosions at the KIVA laboratory has left a team of scientists, including two Nobel prize nominees, trapped underground with an acid leak that threatens to poison the local aquifer. MacGyver's mission is to free the trapped scientists and stop the leak before the military is forced to take drastic measures.
Join us as we tackle the show's premiere (and pilot) episode. Highlights include:
SPECIAL GUEST: SHAVAR ROSS!
This week, we chat with Shavar Ross, Reggie from the Pilot episode. He tells us all about his work helping to pitch the series with Richard Dean Anderson and Henry Winkler. Mr. Ross can also be seen as Reggie (I have decided, the SAME Reggie) in Friday the 13th: A New Beginning, also from 1985. His acting career spans decades including major roles on the 1982 Little Rascals reboot, Diff'rent Strokes, Magnum P.I. and Family Matters!
MacGyver's original residence: the Griffith Observatory!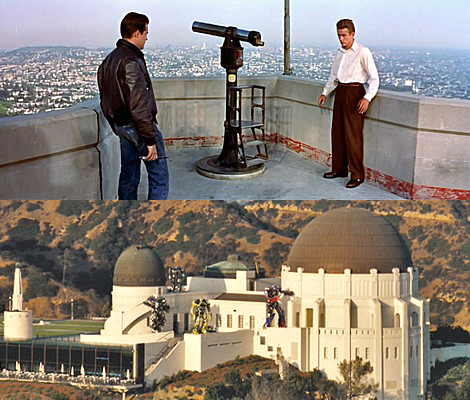 The famous LA structure, typically home to knife-fighting rebels sans cause and a nasty autobot infestation, was MacGyver's actual home in this first episode.
The Apache-lookin' helicopter that drops Mac off at the KIVA was borrowed from the production of Blue Thunder, starring Roy Scheider, Daniel Stern, and Malcolm McDowell and directed by John Badham (Short Circuit, WarGames). Check out this awesome trailer!
Paul Stewart, who portrayed Dr. Carl Steubens in this episode, also played the part of Citizen Kane's butler Raymond once upon a time.
The KIVA bears a striking resemblance to the Wildfire laboratory from The Andromeda Strain (1971).
Comparing Secret Underground Government Laboratories
| | KIVA | vs. | WILDFIRE |
| --- | --- | --- | --- |
| Origin | MacGyver (1985) | | Andromeda Strain (1971) |
| Disguised as… | Abandoned Radio Station | | Dept. of Agriculture Bldg |
| Security Clearance | Conical Laser | | Code Word |
| Internal Security | Lasers | | Lasers |
| Floors | 3 | | 5 |
| Self-Destruct | Underground Missile | | Nuclear Bomb |
…and for those curious, B.A.S.E. jumping stands for Building, Antenna, Span, and Earth.
NaOH

Sodium Hydroxide, commonly known as lye, is an inorganic chemical compound that has a variety of uses from the manufacturing of paper and soap, to cleaning and other industrial uses.  The episode correctly points out that sodium hydroxide can be used to safely neutralize a number of acids in addition to stripping the meat off of skeletons.

Check out the article on wikipedia: http://en.wikipedia.org/wiki/Sodium_hydroxide

Also, the scene in Fight Club where Brad Pitt pours it on Edward Norton's hand.
---

Watch S1E1: "Pilot" on CBS's website or check the alternative streamability of this episode here.